The Great Pumpkin Escape: Exclusive Interview with Pickaway United Way
10/20/2020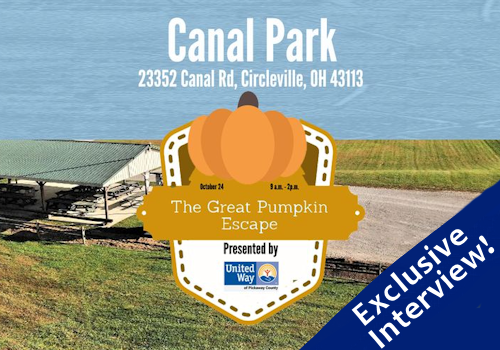 The third week in October is looking a little different in Pickaway County this year. With no Pumpkin Show, folks are coming up with new ways to celebrate the season. United Way of Pickaway County has put together a new event scheduled for October 24 at Canal Park. It's called The Great Pumpkin Escape, and it will feature hiking, good food, and of course, pumpkins!
We were able to speak with United Way Director Jama Cobb about this awesome new event.
--
Hi, Jama! Tell us a little bit about the United Way in Pickaway County.
United Way of Pickaway County was established in our community in 1955. The mission is to unite resources and people to improve the lives of our county's citizens while being strategic to meet the community needs. We emphasize initiatives that help children and youth reach their potential, provide financial stability and independence, improve people's health, and resolve crisis situations.
What inspired this brand new event?
In the wake of this pandemic, we wanted to create a sense of normalcy while also raising funds to help support our community, who as you can imagine has seen a lot of devastation due to COVID. So we created the Great Pumpkin Escape Hike and Food Truck Event. Many of the activities in our community we look forward to year after year have been cancelled. The goal of the event was to provide a safe activity that would allow the community to enjoy the beautiful parks we have right here in our backyards [while] satisfying our taste buds.
While it is nowhere the experience one would have with the food vendors during Pumpkin Show, it does allow for some delicious options. Schmidt's Sausage Haus, Pitabilities, M & S GrubHub and Roadside Lunchbox will deliver a variety of options from bratwurst and cream puffs to Mediterranean pitas to all-American fried foods and desserts. And yes, that does include funnel cakes and fried oreos!
The event is Oct. 24th, 9a-2p at Canal Park in Circleville. You won't want to miss it!
What's your favorite thing about being a part of the Pickaway County community?
Hands down my favorite part is the collaboration and support. If there is a need, there is usually a resource for it and a group of volunteers waiting to jump in. If there isn't, the community always rallies together to fill the gap.
What advice would you give folks who want to make a difference in their community?
Just start! Don't wait for someone to approach you. Start asking questions, it will lead you to some amazing opportunities and impactful experiences.
How can folks help United Way and where can they find you online?
Whether you want to make a monetary contribution or just want to get plugged into the community, we have the pathway. We are in the midst of so many unknowns. Budgets are getting cut but the needs are increasing. We are in the midst of our campaign and are asking if you can give, please do. Every single dollar matters. We have several programs we support who receive matching funds due to our investment in them. For example, a $1.00 donation becomes a $4.00 donation with matching funds, $100.00 becomes $400.00 and so on.
Please visit our website at www.pickuw.org. You will find the opportunity to do both, volunteer or make a donation. If you don't find what you need, call (740.477.8171) or email [email protected] If you want to learn more about UWPC, reach out to Jama Cobb. She'd be happy to help!
View All Posts