Shop Local, Shop Safely
12/03/2020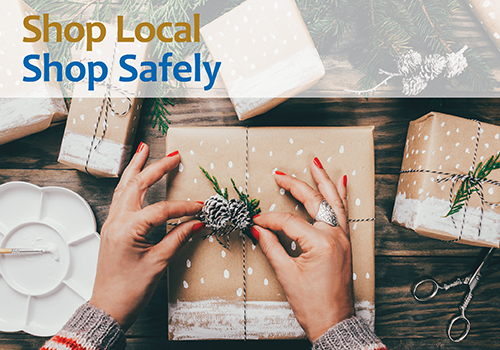 As we begin the holiday season, things may look a little different. Despite this, many folks are still ready to do some shopping! Here are a few tips to help you through the holiday shopping season.
Support Your Local Businesses
It's been a strange year, and many local shops and restaurants would love to have your business now more than ever.
Mask up and take an afternoon to see what your town's small businesses have to offer.
If shopping in person is not an option, ask about online options. Many stores and local craftmakers also sell on online marketplaces or on their own websites. Some will even personally deliver right to your door if you're local!
Pick-up options may also be available. Call ahead and let your favorite shops know what you're looking for.
Visit your favorite local stores on social media to keep an eye on specials and events!
Not sure what to buy? Grab a few local gift cards! They have a long shelf-life and let your loved ones buy whatever they like.
Shop Safe Online
If you're planning to shop online, here are a few things to remember.
Know you're buying from a reputable source. Many 'big box' websites allow outside vendors to sell through their site. You may think you're buying directly from a familiar company, but you're actually buying from a third party.
Hop on your favorite search engine and research any unfamiliar site you're planning to buy from. Your fellow shoppers will often let you know via blog posts and Buyer Beware sites what sites cannot be trusted.
Of course, always make sure the anti-malware and anti-virus software on your computer is updated and working properly. This helps prevent information-stealing programs for getting into your computer and taking your financial info.
Homemade Gifts Come from the Heart
Maybe you're feeling a little crafty this holiday season!
Many folks have been spending a little more time at home this year, allowing them to pick up new skills such as crafting and baking. If this fits you, consider giving your friends and family something handmade for the holidays.
Homemade gifts are often some of the coziest and most appreciated.
Check your local craft stores and malls to see what supplies and shopping options are available.
And remember: it's the thought—not the price tag—that counts!
View All Posts