Working in Our Communities for National Love People Day
09/30/2021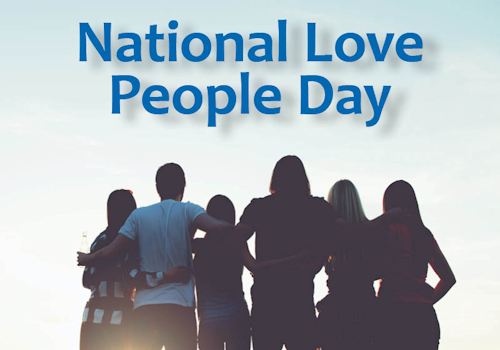 Here at The Savings Bank, we're proud to be involved in the communities we serve, and we're also proud to say that our own employees are some of the most community-minded people we know.
September 30th is National Love People Day, a day dedicated to showing unconditional love for our fellow humans through supporting others and our neighborhoods. In honor of this day, we asked some of our employees to talk a bit about how they give back and why they love their communities.
--
"I love our community. If you mention Circleville to people outside of our southern community, we are known for The Pumpkin Show, and in a way, I feel that is very appropriate to our everyday living. Our community started off very small with strong roots, generations of families have lived and grown in this city. All of the vines are the small businesses that thrive in Circleville; they feed the town and promote town prosperity. Those vines also produce leaves, again metaphorically speaking, [and] these businesses take their growth and donate it to charitable causes around the community, which in turn helps protect every pumpkin/ person in town. I see a lot of locals helping locals, and it's nice to see that sense of community in a world full of uncertainty. I love our community because we act like a community, and together we grow giant strong pumpkins!" – Jenna Ferguson, Mortgage Loan Processor
"[I love our community] because people here really care for one another and tend to help each other when possible. I have been supporting our community by giving back to a homeless woman and her son [by collecting] items such as clothes, food and supplies as well as money for their expenses." – Kenny McCray, IT and Security Specialist
[Regarding how to give back] "I am passionate about giving blood. BE A HERO. Give Blood. Blood donors at the ULTIMATE Recyclers." – Tonya Thompson, Mortgage Loan Officer
"A community cause that's important to me is Foundations4Youth. Foundations4Youth gives kids and teens a safe place to go after school to have a meal, work on homework, and just be kids, and by doing so fills a major gap in our community." – Maddy McCain, Accounting
"I like to support my community by donating to the Community Cupboards that are found randomly around our small community. It comforts me in knowing that people are being fed, just by the selfless acts of others." – Kelly Hart, Receptionist
"There are so many groups of passionate folks in our communities working to make people's lives better through volunteering and contributions. It's heartening to see the way we can all come together to help others, including people we don't know and people we'll never meet! That unconditional support is very inspiring." – Jenny Rainey-Agresti, Marketing Manager
"My family is part of "Big Brother Big Sisters of Western Ohio." The motto of Big Brother is, "making a difference, one child at a time." It was my son's idea to become a "Big brother." My son and my family mentor a young man who we instantly felt a connection with and love as a son, brother, and uncle. This young man became part of this program as he has had a tough life and needed guidance to navigate challenges that he was facing. As a result, he has become part of our family. This program is important to my family because we deeply believe that we all need to do something to make a difference." – Wendy Wimbley, Receptionist
"I love my community because it always steps up in a time of need. If it be through monetary or physical donations or through time or talent, the need is filled with generosity and without hesitation. I live by this through my personal life, and I am thankful my employer supports my efforts and the efforts of our community to fill needs when needed." – Stacy Young, Mortgage Loan Officer
--
In the spirit of the day, we invite you to go out and contribute to your community and your fellow citizen!
View All Posts