Saving Tips for National Savings Day
10/12/2021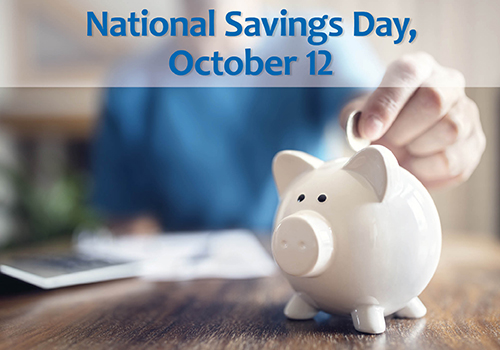 This is the time of year when we see the squirrels sprinting up and down the trees in the woods and our local parks. Their jaws are often bulging with their coveted treasures as they rush to hide food away for winter. It makes sense that the national day meant to remind us about the importance of saving money is in the month of October. So, let's talk savings!
Saving Trends Right Now
Since the beginning of the pandemic, saving money has become a top priority for many Americans. According to the U.S. Bureau of Economic Analysis, in April of this year spending continued to drop while consumer savings rose to a record-setting 32.2%. The last record high savings rate was 17.3% in 1975.
Smart Reasons to Save
While uncertainty is driving the current savings trends, there are always good reasons to follow the example of our squirrel friends and set aside provisions…though we're not recommending stuffing money in nearby trees! It's important to save for the unpleasant and unexpected:

• Auto purchase and repairs
• Illness
• Home repairs
• Job loss
• Changes in income
• Increases in the cost of essentials, like gas, food, clothing and rent
• Veterinary bills
Smart and FUN Reasons to Save
But there are just as many fun, happy reasons to build a financial nest egg:

• Retirement
• New/first home
• New auto
• Recreation vehicles (campers, boats, motorcycles)
• College education
• Vacation/travel
• Wedding/honeymoon
Let's Start Saving!
Saving for both the good and the not-so-good moments in life can be difficult, but establishing goals and making a plan are the best ways to begin.
• Design a Budget
A budget helps you understand your household's cash flow (or how much is coming in and how much is going out). This helps you track how, where and when you're spending your money and can identify ways to spend less and save more.
• Reduce Debt
Consolidate your high-interest debt into lower-interest personal or home equity loans– and try to pay more than the minimum due, even if it's not a lot.
• Save for Retirement
It's never too early to start saving for retirement. If your employer offers a 401K/retirement savings account, try to increase your level of contribution as you move forward in your career. If not, try opening an IRA to help set aside a nest egg.
• Build a Safety Net
Most financial experts agree that building a savings cushion of three- to four-month's salary is good.
• Automate Savings
In addition to participating in pre-tax withholding for employer-sponsored retirement accounts, have your employer deposit a certain amount into a separate savings account with every pay. Automated savings into an account separate from your checking/spending account requires less self-discipline and reduces stress.
How Your Community Bank Can Help You Save
There are a variety of products available at The Savings Bank that can help you save and grow your money. In addition to traditional savings accounts, ask us about:

• Money market accounts
• Certificates of deposit (CDs)
• Individual retirement accounts (IRAs)
This is the month! Establish a budget, set goals, design a plan and start saving!
SOURCES
"How Has the Pandemic Impacted U.S. Savings Rates"
https://time.com/nextadvisor/banking/savings/us-saving-rate-soaring/
"Get Financially Fit"
https://www.aba.com/advocacy/community-programs/consumer-resources/manage-your-money/get-financially-fit
"There are 7 main places to save your extra money, and the best fit comes down to your financial goals"
https://www.businessinsider.com/personal-finance/places-to-save-extra-money
View All Posts