Shred-It Day Returns! (May 14, 2022)
03/30/2022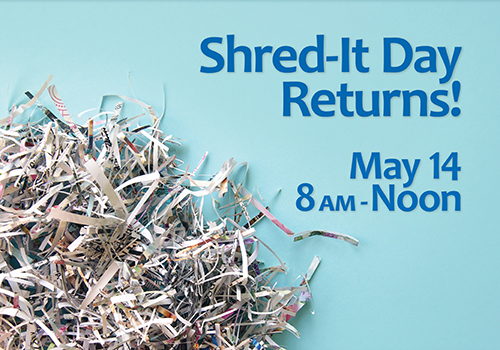 After two years, The Savings Bank is excited to bring Shred-It Day back to Pickaway County! This year's Shred-It Day will be held on May 14 from 8:00 AM until Noon at Circleville Middle School's parking lot (360 Clark Drive). Citizens can bring their unwanted sensitive documents, and we'll securely destroy them on-site with the help of Shred-It's trucks and employees.
Why should I shred my documents?
Old invoices, account statements, and other personal documents can be a way for crooks to obtain the information they need to steal your identity. One way to prevent this is to securely shred those documents, rather than simply throwing them away or allowing them to sit unprotected in your home.
How can I prepare for Shred-It Day?
Begin by moving your unwanted documents to an easily transported container. Shred-It Day is a drive-up event, so please put all containers in your vehicle in a way that easily accessible for our volunteers.
What can I expect when I arrive?
Please wait in line until you are directed to one of our Shred-It trucks. Once you're there, our volunteers will remove your containers of unwanted documents and hand them to a Shred-It employee, who will destroy them securely on site. We will ask you if you would like your containers returned to you. If not, we will recycle them.
In addition to shredding your unwanted documents, we'll also have food pantry volunteers on-site to collect non-perishable donations.
Have questions?
If you have questions regarding Shred-It Day, please give us a call at 1-800-582-2265 or email [email protected]
View All Posts