Loan Scams: What You Need to Know
11/09/2022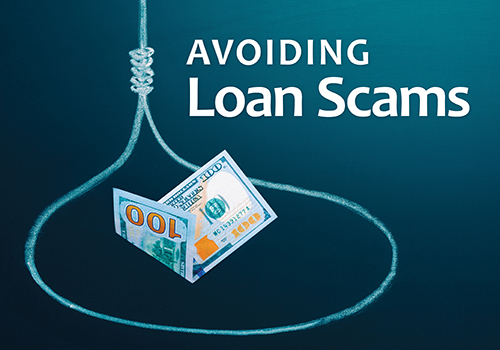 LOANS SCAMS: WHAT YOU NEED TO KNOW
It can certainly seem like a new scam is born every day, which can make consumers extremely hesitant to engage in financial activities. But as always, education is key, and in today's blog post, we'd like to arm you with a little knowledge against loan scams.
LOAN SCAMS OVERVIEW
A loan scam is a loan offered under false pretenses, with no intention of follow-through. These scams can take many forms.
Loan Fee Scams - A low-cost loan is offered in exchange for fees up front
"No Credit Check" Scams - Victims are automatically approved for a loan, regardless of their credit history, and are usually asked to send payment for fees through unsecure methods like apps or gift cards
Student Loan Forgiveness and Debt Consolidation Scams - Scammers ask victims to send large payments in exchange for "forgiving" debt, but it never happens.
Like most criminals, loan scammers target populations perceived as vulnerable such as the elderly, those with bad credit, and those with a lot of debt. Their goal is to obtain personal information, get access to personal accounts, charge high interest rates or hidden fees, or charge fees for services they have no intention of performing. They can contact victims over the phone, through the mail, in an email, and even on social media.
SPOTTING A SCAM
| | |
| --- | --- |
| GREEN FLAGS | RED FLAGS |
| BBB reports or official ratings | Offering a loan over the phone with a prerecorded message (it is illegal) |
| Positive Online Reviews | Asking you to send back money (banks will never charge a fee upfront or ask you to send back money), especially over apps or with gift cards |
| Professional Communication | Lender guarantees approval (all legitimate lenders will check credit or some metric) |
| Active websites, phone numbers, and physical locations | Receiving checks from an individual and not a business |
| Upfront disclosure of all fees | No physical location, especially in your state |
| Secure websites beginning with https:// | Pressuring you to act immediately or using scare tactics like calling the police or filing a lawsuit |
REMINDER: IF IT SOUNDS TOO GOOD TO BE TRUE, IT USUALLY IS!
Sometimes it's hard to tell what is a scam and what isn't. Some scammers go to great lengths to conceal their crimes. Scammers can parody legitimate phone numbers, websites, and companies themselves to seem legitimate. A couple good rules of thumb are to never give out sensitive information over the phone, only call phone numbers from a secured website, never click links from emails, and to never send money back to a loan company.
WHAT TO DO IF YOU'VE BEEN SCAMMED
If you are the victim of a scam, it is very important to do the following:
Gather any documentation sent to you from the company
Contact your local law enforcement
Contact agencies specializing in oversight
Talk with your friends and family
Place a fraud alert with one of the major credit bureaus
It can be hard to keep up with every new scam that comes along. As always, The Savings Bank is here to help you navigate trying times for a successful financial future.
https://www.bankrate.com/loans/personal-loans/personal-loan-scam-signs/
https://www.debt.org/credit/loans/loan-scams-to-avoid/
View All Posts