Watch out for Sweepstakes and Lottery Scams!
02/08/2023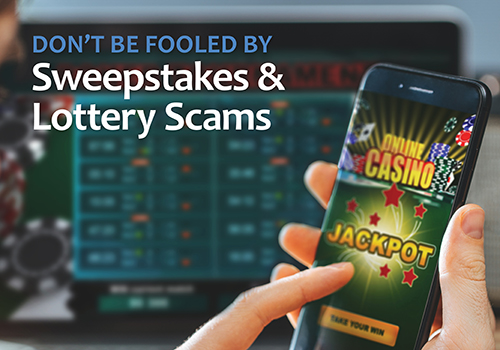 Watch out for Sweepstakes and Lottery Scams!
Winning the lottery or a sweepstakes is a dream of many Americans. That dream can quickly turn into a nightmare if the contest is fraudulent, especially if real money was exchanged for what turns out to be a scam. In 2021, the Federal Trade Commission (FTC) reported a 27 percent uptick in reports of fraud involving sweepstakes and lotteries – now more than ever is the time to protect yourself against falling for such a scam.
Overview
Humans have a natural desire to win and scammers take advantage of that. As soon as you respond to a lottery or sweepstakes solicitation, you have identified yourself as a potential victim which will result in more offers for fake lotteries and other fraud. Sweepstakes and lottery scam occurrences increase with national news stories about current jackpots.
Sweepstakes and lottery scams in 2021 alone cost victims $255 million dollars collectively, according to the FTC. Furthermore, the Better Business Bureau reports that adults 55 and over accounted for 72 percent of sweepstakes scams and nine out of ten lost an average of $5,000.
Initial contact for these types of scams is usually via a call, an email, a social media notification, or a piece of mail. For lotteries, it is important to remember that it is required to purchase a ticket in order to participate. If you receive communication you have won a lottery, but never purchased a ticket, it is always a scam. For sweepstakes, it becomes a little more difficult as they are defined as a free game of chance. However, if you have never entered a sweepstakes, you more than likely won't win one.
Legal vs. Illegal
It is ILLEGAL to…
Participate in a foreign lottery
Use the mail or telephone to play lotteries across state lines
Require you to buy something (other than the lottery ticket) or pay a fee in order to win or claim a prize
Suggest your chances of winning will be better if you make a purchase
Send a "winning" check that does not say non-negotiable and has no cash value
Send a sweepstakes mailing without stating "participation not required"
It is REQUIRED and LEGAL…
To give you the details in writing, including: the odds of winning, the value of prizes, the guarantee that no purchase is necessary, and an explanation that a purchase does not improve your chances of winning
For real contest promoters to sell your information to advertisers
Be Suspicious Of…
Pushes to join a lottery club to increase your chances of winning
Requirements to wire money
Stipulations to send the company money to cover taxes or fees (taxes will always be deducted from your winnings or you will send the money directly to the government yourself)
Companies that ask for your bank account information (legitimate companies may ask for your social security number for tax reporting purposes)
Offers to send an "advance" on your winnings
Envelopes marked "urgent" or sent with bulk mail rates
A person claiming to be from a federal agency asking for money to claim your prize
Any calls from an 876, 809, or 284 area code as these are all hotbeds of lottery scams
Scammers will do just about anything to get your money from you. It is important to guard your information, to always be suspicious of people who initiate contact with you, and to validate the identity of the person you are speaking to. Many lottery and sweepstakes scammers will impersonate fake government bureaus or well-known sweepstakes companies to gain your trust. Always remember: do not respond, do not send money, and do not give our any personal information.
Sources:
Sweepstakes Scams: Warning Signs and What To Do (aarp.org)
Fake Prize, Sweepstakes, and Lottery Scams | Consumer Advice (ftc.gov)
Sweepstakes and Lottery Scams (consumeraffairs.com)
Consumer Alert: Sweepstakes and Lottery Scams | Attorney General Karl A. Racine (dc.gov)
Prizes and sweepstakes scams – Fraud
View All Posts