Meet Commercial Lender Andria Griggs (NMLS# 1365430)
07/05/2023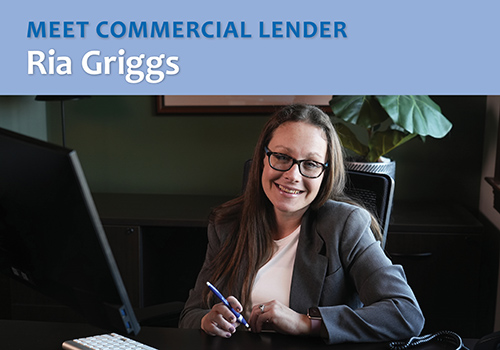 Meet Commercial Lender Andria Griggs (NMLS# 1365430)
This week we sat down with one of our newest members to the Commercial Lending team Andria (Ria) Griggs. In this interview we learned a bit more about Ria herself and her approach to commercial lending.
Ria has worked for the Bank for about seventeen years, and during that time she has held several positions. As a Branch Officer, Ria split her time between retail banking and lending. In 2022, however, she was able to transition to focus on lending full time. Ria now can "help customers with both their personal and business loan needs."
During our interview we asked Ria what her favorite part about commercial lending has been so far. She animatedly responded:
I love working with commercial customers who are so passionate about what they do. Every business operates in their own way, and it's very fulfilling to see how they work and help customers succeed in achieving their goals.
Indeed, Ria discussed how she is focused on building "long-term, meaningful relationships." Her approach to lending is to realize that every customer is different. Because of this, Ria says she always takes the time to get to know and understand each customer's goal. This is how she creates individualized, focused plans for her customers.
While our focus for the interview was on Ria's lending philosophy, we were also interested in what Ria felt was important for our customers to know. In response, Ria said that she wants our customers "…to know they can come to me with questions about financial decisions." She made it clear that she has an "open door" policy and would like our customers to feel comfortable reaching out with any questions or concerns they may have, wherever they are in the lending process.
To close, we asked Ria what it means to her to be a commercial lender in the community she is a part of. She responded by saying "Having [an] understanding and familiarity is important and builds not only strong banking relationships, but also a strong community."
If you would like to contact Ria Griggs, she can be reached at [email protected] or at 1-800-582-2265. If you would like to learn more about business lending at The Savings Bank, visit https://www.thesavingsbankohio.bank/product/commercial-team.html.
Thank you, Ria, for sitting down with us and sharing your experience and philosophy as a commercial lender!
Loans Subject to Credit Approval. Member FDIC.
View All Posts