Spotlight On: Uptown Circleville
07/12/2023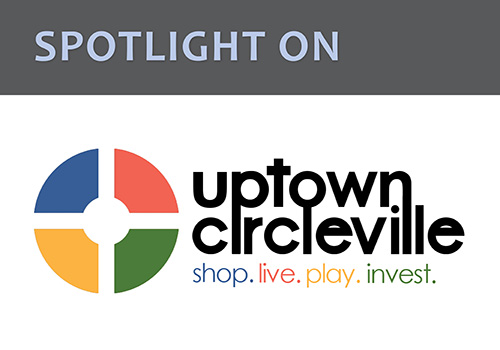 Spotlight On: Uptown Circleville
This week's Community Spotlight is on Uptown Circleville. Formed in 2018, their mission is to "strengthen our city though beautification, promotion, and economic growth." A few of their projects include bringing DORA to downtown Circleville, setting up decorative flowerpots, and organizing community events. To learn a little more about Uptown Circleville and some of these events going on this summer, we spoke with member Jenny Rhoads. Keep reading to learn more!
Q: Hello! Can you introduce yourself and your role with Uptown Circleville?
My name is Jenny Rhoads. I am a volunteer for Uptown Circleville, and I help with the promotions committee. The promotions committee plans events, market existing events, and promotes business within our Uptown.
Q: This summer Uptown Circleville is hosting many events, notably First Fridays and the 3 on 3 June 22nd. Do you want to talk about either of those or any other upcoming events?
We are very excited for the 3 on 3 Tournament, as it is our signature event. It brings lots of visitors to the area, and hopefully those visitors can have a chance to see some of Circleville's great restaurants, shops, and more.
First Fridays are a great opportunity to bring the whole family uptown. Each Friday has a different theme, hopefully someone will find something that interests them. Our committee has come up with a variety of events that hopefully will bring some excitement back to Uptown on a Friday evening.
Q: What is your goal in hosting these events and how can people get involved?
These events are to help build our community spirit and bring foot traffic into our brick-and-mortar businesses. Uptown is very much alive and there are a lot of volunteers working to make our city a better place in a variety of ways.
We are always seeking volunteers for committees or business partners to help fund our endeavors.
Q: Where can people follow Uptown Circleville or get in touch for more information?
Learn more at uptowncircleville.org or visit https://www.facebook.com/UptownCircleville.
If you would like to register a team for the 3 on 3 or get more information, you can do so by visiting https://www.teamsideline.com/sites/uptowncircleville/home. Regular Registration ends Friday, July 14th, but late registration is open until Thursday, July 20th. Furthermore, keep an eye out on Uptown Circleville's Facebook page for information on the next First Friday!
Thank you, Jenny, for taking the time to speak with us about Uptown Circleville.
View All Posts