Summer Fun for the Entire Family!
07/19/2023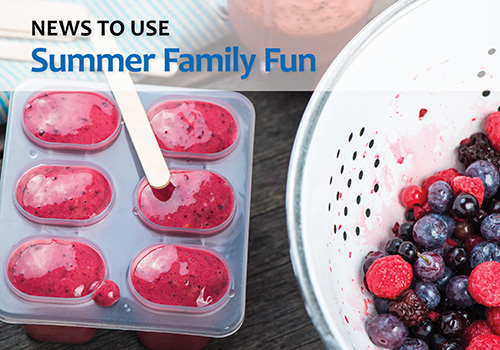 Summer Fun for the Entire Family!
Summer is winding down, and it's time to take advantage of every day we have left of it! In the interest of making the most of it, we have compiled a list of several out-of-the-ordinary ideas that are fun for the entire family.
Backyard Olympics
Let the games begin! It's hard to get the entire family entertained during the long months of summer. However, with some creative maneuvering, you can make the First Annual Backyard Olympics the highlight of the summer. Come up with a couple of events for the whole family to participate in, like competitive cornhole, high stakes jump rope, and a head-to-head watermelon eating contest. You can even award prizes at the end for the winners!
Make Popsicles
Everyone loves popsicles, and what could be more fun than making them yourself? Get unexpected ingredients that make truly unique flavors like Pineapple Pop-Rock or Dill Pickle Grape and really have some fun with it. It would also be fun to test some of your more interesting flavors on an unsuspecting victim… or family member, rather.
Scavenger Hunt
This one can take a bit more preparation, but it has the potential to give your family many great memories together. No matter how big or small you want your scavenger hunt to be, there are great resources online to create a memorable scavenger hunt. These are great to get children of all ages and abilities outside and using their brains.
Have a Picnic
Nothing says the perfect summer day like a lazy picnic with your loved ones. Whether you pick up sandwiches or make some homemade food, make the most of your uninterrupted time together by grabbing a blanket and picnic basket and enjoying each other's company. You could even grab some cards or lawn games to enjoy after eating.
Camp Outside or in the Living Room
Camping can be as stressful as any other vacation, but camping in your own backyard or living room takes all the stress away! Grab your tent and some snacks and have a fun night together. You can still have the best parts of a camping trip (namely the s'mores) with luxuries your home has to offer like internet.
Bonus tip: Hang a white sheet and get a phone projector to watch movies on the lawn or in the living room.
6. Volunteer
Volunteering is a great way to spend time with your family and give back to your community. There are many opportunities to volunteer that are friendly to children of all ages, such as going to a dog shelter or helping clean up parks.
The great thing about these activities is that they can be done inside or outside, and in varying degrees of preparation. Not everyone has time to organize a twenty-step, multi-location scavenger hunt, and that's okay. The real benefit of all these activities is that they encourage quality time and beat the late summer blues. Happy summer!
View All Posts