Tips for Relaxing after a Stressful Day
07/26/2023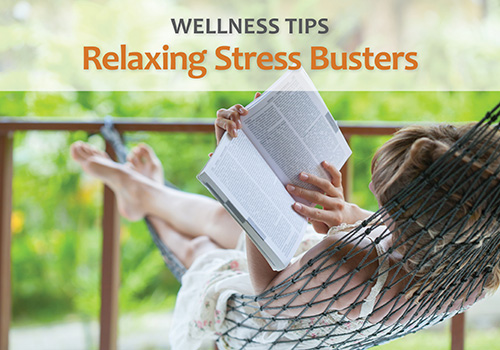 Tips for Relaxing after a Stressful Day
Many of us come home at the end of the day feeling tired, worn out, and overwhelmed. To take better care of your mental and physical health, it is recommended that you find ways to relax after one of these stressful days. Below are some tips for leaving the stress of the day at the door!
Continued stress can have many negative effects on the mind and body. Most commonly high stress leads to headaches, muscle tension, chest pain, and fatigue. Your mind will react to these effects by producing feelings of anxiety, restlessness, irritability, and even depression. Therefore, it is very important to manage stress. On a day-to-day basis there are many things you can do that will help you release the tension from a stressful day.
Going on a Walk
Going for walks in general is good for your mind and body, especially if you are accompanied by a furry friend or loved one. However, going for a walk after a stressful day can be doubly beneficial. Not only does exercise release chemicals in our brains that contribute to wellness, but it can also be a great time to enjoy the little things in life. The sun is a great reminder that tomorrow is a new day.
Cooking a Meal or Making a Dessert
Cooking a healthy meal or making a comfort dessert can really improve your mood, especially if the recipe is a familiar one that requires very little brain power. Your body will act on muscle memory, and you can focus on letting the stress of the day melt away.
Try Journaling
Journaling can be an excellent way to let go of your stress. Write down things you are grateful for, things you want to work on, or even the things your mind can't seem to let go of. Not only does this help relieve the mind, but the act of physical writing can help you unwind. This is a great option for those who only have a few minutes to dedicate.
Reading a Book
Depending on the book, reading is one of the best things you can do to shake off a stressful day. Let yourself get immersed in another world, grab your favorite beverage, and wrap yourself in your softest blanket. If you tend to be a reader who gets stressed by the unknown, we recommend reading something you already have. You already know what is going to happen, and enjoyment is guaranteed!
Do Breathing Exercises
We understand that not everyone has the time or ability to dedicate to these other options. If you are unable to de-stress in other ways, breathing exercises can be just beneficial. There are many online resources that can help you with breathing exercises that take under five minutes.
We all have stressful days, and the best stress reliever is simply doing something you enjoy. Even if it is just two or three minutes of your day, remember to take the time to let some of the tension go and do something just for you.
Sources:
https://www.indeed.com/career-advice/career-development/how-to-relax-after-work
https://www.mayoclinic.org/healthy-lifestyle/stress-management/in-depth/stress-relievers/art-20047257
Stress symptoms: Effects on your body and behavior - Mayo Clinic
View All Posts