Weekend Home Improvement Projects
08/02/2023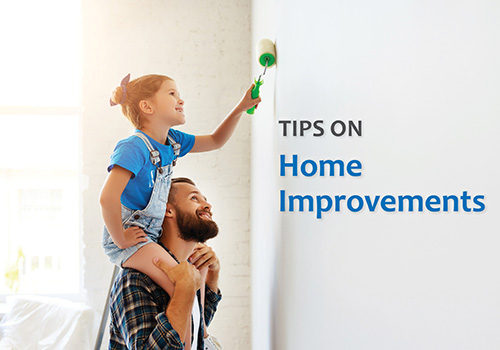 Weekend Home Improvement Projects
One of the best ways to enhance your wellness is to improve your living space. Before you start demolishing walls and ripping out tile, consider a home improvement project that you can complete in one weekend (and won't hurt your wallet!).
We recommend picking the space that adds the most stress to your day-to-day life. If your laundry room is so disorganized that you dread even going in there let alone completing the laundry you need to, that is an excellent place to start. The goal is to make your home a sanctuary away from the chaos of the outside world. Here are several projects that you can complete in one weekend and won't leave you with a mess for weeks.
Organize a Troublesome Space such as your:
Closets
Kitchen Drawers and Cabinets
Bathroom Vanity
Supply Spots
Storage Totes
Update your front porch by:
Updating your wreath (or adding one!)
Adding flowerpots
Painting the front door
Changing out house numbers
Adding seating
Beautify window boxes with:
Fake flowers
Real flowers
Fun figurines
Pretty water globes
Decorate your laundry area by:
Adding low-cost artwork
Replacing bulky containers
Adding a shelf
Making space to store laundry baskets
Adding a clothesline
Clean up the garage by:
Getting rid of stuff you don't use
Adding shelving for organization
Deciding how to best use the space
Resealing the floor
An important thing to remember is that none of these projects should induce stress or dread. Sometimes a simple shuffle of elements already in your home can lift weight off your shoulders. So, before you run to the store to buy new things for any of these projects, look around your house and see what you already have. The best method is to pick one focus because what you do not want is to start three different projects and finish none of them!
When you start feeling just as stressed in your home as you might outside of it, it could be time to work on a few home improvement projects. Your general wellness can really benefit from a fresh feel to your living space. However, picking a project that can be accomplished in one weekend is critical to not getting overwhelmed. What project will you be accomplishing this weekend?
View All Posts