The History of The Savings Bank
08/24/2022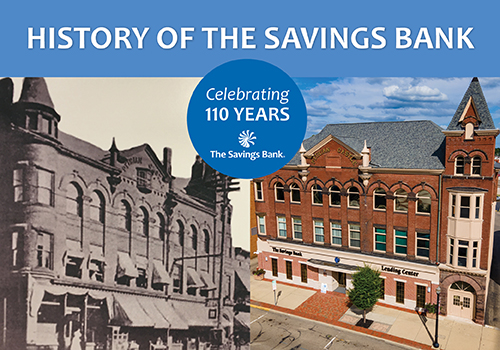 As we get ready to celebrate The Savings Bank's 110th Anniversary, we wanted to look at where the bank has been and anticipate where it will be in the future.
ORIGINS
The story of The Savings Bank began at 110 N Court St. when the city of Circleville was just 100 years old. Founded by several local businessmen in 1912, it was not long before the Circleville Savings and Banking Company moved to its current location at the Pythian Castle. As John Ankrom aptly put it in his Circleville Herald op-ed to celebrate the 100th Anniversary:
The Savings Bank would grow and prosper the way that any community bank does, one loan at a time. A set of tires for the car, an addition for the house, a funeral for a family member, helping out when a need existed. It would grow by being a trusted neighbor, a safe place to protect the family's resources, a committed, generous member of a community.
Since then, The Savings Bank has expanded its offices to Ashville, Williamsport, and London. Most recently, the bank acquired Standing Stone and its two branches in Lancaster, as well as a mortgage subsidiary in Helpbringer Mortgage Service Co. in Worthington.
GROWTH
The last several years have seen many changes to The Savings Bank, but what remains intact is a dedication to offering its customers and the community at large the products and services they need. As a full-service bank, customers can do anything from opening a checking account to an auto loan. Currently, The Savings Bank offers six different checking accounts, from a Smart Student Checking to a SeniorSmart Checking and even a SmartDebit account for paper-free checking; several savings account options, including IRAs and CDs; a full suite of business products; and loans to fit a variety of needs. Apart from this, The Savings Bank also offers credit cards, safety deposit boxes, online banking, and much more.
In 2022, improvements were made to MyTSBMobile, the mobile banking app, so that banking with The Savings Bank is now easier than ever. Customers can view balances, transfer funds between banks, and manage a debit card all from their phone. With the most recent improvements, customers can turn off a lost or stolen card, view debit purchases in detail, and even set travel plans so their card can be used abroad.
IN THE COMMUNITY
The Savings Bank would not be where it is today without the support of the communities it serves. To give back, the bank focuses on ways to help local schools, food pantries, arts initiatives, and community centers. Over the years, The Savings Bank has had the opportunity to be involved in county schools and their athletic facility initiatives, fundraising for several foundations, as well as helping to improve 2-1-1 services in Pickaway and Fairfield counties—and that's just scratching the surface. Furthermore, The Savings Bank is dedicated to educating the populace on safe banking practices. The bank's annual Shred-It Day was instated as a way for the community to properly dispose of personal documents.
The Savings Bank also encourages and empowers its employees to give back through volunteering for local foundations, charities, and non-profits. Many employees serve on local boards dedicated to improving communities in Pickaway, Madison, and Fairfield Counties and beyond. Team TSB also loves contributing to events such as The Pumpkin Show, Farm Science Review, Ashville 4th of July, Deercreek Dam Days, and Lancaster Festival.
THE NEXT 110 YEARS…
As for the future of The Savings Bank, we hope to continue the next 110 years as we have spent the last: engaging our communities, being a trusted financial institution, and providing for the needs of our customers and fellow citizens. As former bank president Steve Gary once said, "Together, and with the community's loyal support, [The Savings Bank's] leadership and employees have built an institution that makes life better for everyone."
Our sincerest "Thank You" to our employees, customers, and communities!
Sources:
https://www.circlevilleherald.com/comment/letters/savings-bank-takes-a-look-behind-a-look-ahead/article_11e3198e-8d89-11e1-a0af-0019bb2963f4.html
https://www.circlevilleherald.com/community/new-leadership-planned-for-the-savings-bank/article_647e704c-dbc1-5aa7-babb-bb210a57cf18.html
https://www.thesavingsbankohio.bank/about/about-the-savings-bank.html
View All Posts