Walking Trails: Pickaway, Madison, and Fairfield County
09/21/2022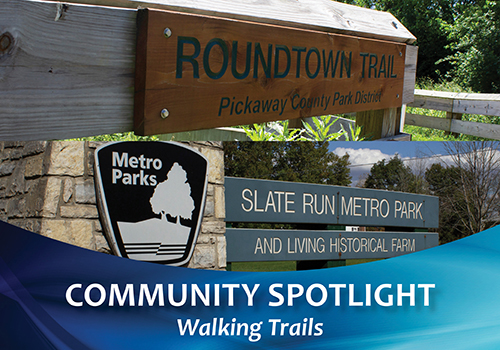 WALKING TRAILS: PICAKWAY, MADISON, and FAIRFIELD COUNTY
The seasons are changing, the leaves are turning, and you still need to keep active. So why not take advantage of the beautiful fall atmosphere and visit your local walking trails! The Savings Bank has compiled a list of some of the walking trails around Pickaway, Madison, and Fairfield Counties. This list is by no means meant to be comprehensive but is focused on family-friendly trails that are easy to moderate for the average user.
SAFETY FIRST
Always bring water and sunscreen
Park in high traffic areas
Try not to walk alone, especially in secluded areas
Walk during the day
Make sure someone else knows where you are
MADISON COUNTY
The first trail is Prairie Grass Trail in Madison County. At 10 miles long, it travels from London to South Charleston, though it extends as far as Xenia. Because the path is noncircular, users will need to account for returning to vehicles or public transportation. According to one review, the asphalt path has few trees and shade, so users need to make sure to bring their sunscreen and plenty of water. However, the best feature of this trail is that everyone is welcome to use this it, including bicyclists, skateboarders, walkers, and runners. The park on the London side also offers a picnic pavilion, restrooms, and other great amenities.
PICKAWAY COUNTY
Pickaway County has no shortage of amazing walking trails. We would recommend going to all of them to see the unique features of each! Mary Virginia Crites Hannan Park in Circleville features a 1.2-mile paved trail. It is estimated that this is 2,500 steps and has an elevation of 0-ft. The loop track also makes it easy to decide where to park and provides quick access to the park's other features such as gazebos, restrooms, playgrounds, and dog parks.
Also in Circleville is Roundtown Trail. With a 1.5-mile linear trail that stretches from the YMCA to Ohio Christian University, this trail is ideal for beginners wanting a little scenery.
Another amazing place for trails in Pickaway County is Ashville. Ashville Community Park has a 0.6-mile circular walking track that is low impact for users. Users will get 1,500 steps per loop and can also take advantage of the park's gazebo and playgrounds.
A list of the best walking trails in Pickaway County would be incomplete without mentioning the many walking trails at Metzger Preserve in Williamsport. For the scenery alone, we love these trails. With seven different trails ranging from .1-mile to 1-mile, this is a park you can keep coming back to. Some of the trails even cut through the prairie with 3,840 native plants.
FAIRFIELD COUNTY
Our most challenging walking trail is found in Fairfield County at Rising Park. The Mount Pleasant Trail is 0.7-miles, comes to a 250-foot prominence and is rated moderate. While the amazing view makes this challenging trail worth it, keep in mind it is often rocky and is at an incline.
If you live in or are visiting Fairfield County and would like something a little easier, Lancaster offers two alternatives in Chestnut Trail and the Fairfield County Fairgrounds. Chestnut Trail is a 4.2-mile out and back trail and takes around two hours to complete. There is a gradual elevation gain of 692 ft. and is part of Clear Creek Metro Park. Just remember that is trail does not allow dogs. Finally, is the walking track at the Fairfield County Fairgrounds. At 1.5-miles, this loop takes 37 minutes to complete. With only a 39-foot elevation, this track is rated easy by users.
Slate Run Metro Park, while in between several of these counties, has a beautiful much larger 1.4-mile walking track that we just had to mention. Rated easy because it has no elevation, users will get 3,000 steps in. As part of Slate Run, there are many other natural wonders to see when visiting this trail.
With the first day of fall hovering on the horizon, make sure you get out on those trails to see the leaves change while enjoying the last days of summer. Happy walking!
Sources:
https://www.mypacer.com/routes/230919/slate-run-metro-park-ashville-ohio-usa
https://www.pickawaycountyparks.org/parks-and-trails/entry/237/
https://www.ci.circleville.oh.us/facilities/facility/details/Mary-Virginia-Crites-Hannan-Park-4
https://www.mypacer.com/routes/230917/mary-virginia-crites-hannan-park-walking-and-running-circleville-ohio-usa
https://www.alltrails.com/trail/us/ohio/hargus-lake-trail
https://fmcpt.com/prairie-grass-trail/
View All Posts